In a country like India, the land of the "browns", it is both shocking and disheartening when you walk into a makeup store and see that barely anything is catered to dark skinned people. They have to look hard for their shades, and when they do find it, it is almost always expensive, and the same goes for plus-size people. The clothes they find in their size seldom fit their bodies properly, and the clothes that do are rarely on trend or even age-appropriate, it's as if only older adults can be fat. Dark and plus-size people face discrimination in a lot of ways, but when they can't even find clothes that fit or makeup that is their shade, it says to them that they deserve not even the basic joys of life, that no one cares about them, it puts them further down, stripping them of confidence.
History of the Inclusivity Movement
Now, a new wave of inclusivity has emerged as part of the body positivity movement. In recent history, this started roughly in 2012 when people started challenging unrealistic beauty standards set for women by society. Initially it only spoke about weight, but as and when it grew, it shifted its focus to the message that everyone is beautiful regardless of weight, shape, skin tone, race or physical disability. The movement only took a pivotal turn when social media came into the picture, Instagram being the major catalyst; it was then when people started talking about inclusivity and representation. They never saw fat, racially ambiguous or dark people in advertisements or even popular culture, and even if they did, those people were only used either to be made fun of or tokenism.
The Brands That Did It Right
This movement was far more widespread in the West than in India, especially when the Victroia's Secret Annual Fashion Show because they refused to feature plus-size or disabled women. After this, brands started trying to be more inclusive, but most brands were making this effort forcefully for the fear of being "cancelled" online. Although, there were some brands, like Rihanna's makeup and clothing brand, Fenty, and Selena Gomez' makeup brand Rare Beauty, that were inclusive from the beginning. Another brand that is revered for being inclusive is ASOS, a UK based online clothing retailer. Not only did these brands' advertising included people of many sizes, complexions and ethnicities, their products had a vast shade and size range, making people like their brand because they felt represented, included and cared for.
How Did They Do It
Fenty, for example, started their makeup line with 40 shades of foundation which was unseen in the makeup industry. Rare Beauty's makeup tubes and bottled featured a cap that was easy for people with arthritis to open, along with a good shade range. ASOS also has always had more sizes available than its competitors. The inclusivity these brands demonstrate not only gives them a good public image, but also gives them a larger consumer base which shows in their revenue.
The Results They Saw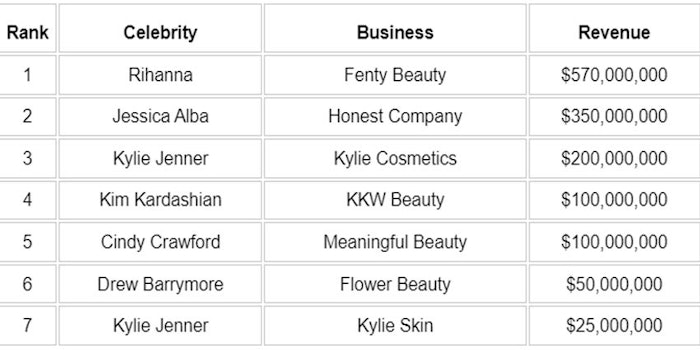 According to insights from OLBG, Fenty Beauty is the highest selling celebrity owned beauty brand even though, their competitor's Kylie Cosmetics has more than double the amount of followers than Fenty Beauty on Instagram; Fenty Beauty has gone as far as to officially turning Rihanna into a billionaire. Within one year of launching, Rare Beauty had also made way into the top 10 most successful celebrity owned beauty brands, generating $60 million in that year. ASOS too, is the biggest fashion retailer in the UK and one of the biggest globally, in fact ASOS topped the list of the top 10 brands dominating organic search results on Google in 2016.
What We Need to Do
Brands in India need to take inspiration from these brands as even we have a very diverse population. Brands like Katrina Kaif's Kay Beauty and Lakme have made some progress in this aspect by carrying a bigger shade range than their competitors, but they are nowhere near close to the brands we mentioned above. If they plan on expanding not only in India but also globally, this is something they would have to achieve.