Menstruation has been a 'hush-hush' topic in India since time immemorial. With changing times, the bubble of secrecy around the issue is gradually melting away. But still, a large section of our society does not have access to proper menstrual hygiene because it is still a taboo for many.
The stigma and shame generated by stereotypes around menstruation have severe impacts on all aspects of women's and girls' human rights.
In a country like India, menstruating women continue to be viewed as "contaminated and impure", often restricted and forbidden to engage in activities like touching water or cooking, attending religious and cultural ceremonies or other community activities. For a country that still considers periods a taboo and refrains from talking about it, aiming for period leave still feels like a far-fetched dream.
Last year, Zomato began with 10 days of menstruation leave for individuals who bleed. The management learned that women in their work areas shy from talking about their periods and take sick leave instead of just asking for leave due to a painful period. The company took the call for individuals – women or trans men who bleed can avail themselves of 10 days leave.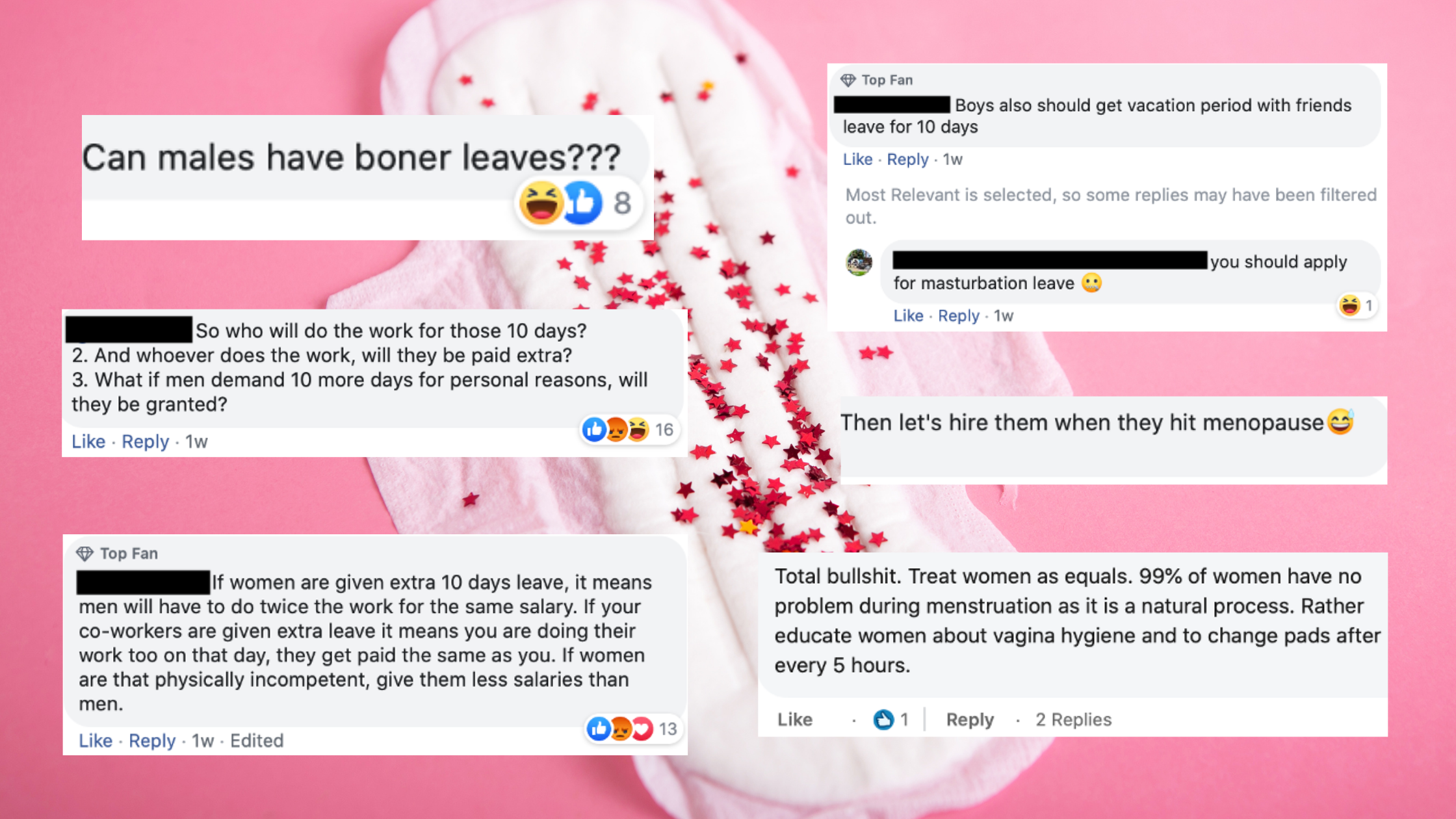 With praises and admirations, the company, however had also received negative responses from both men and women.
Here's what the Public thinks about Period Leave.
Is Period Leave Fair?
The issue of period leaves has always sparked debates in the nation. The question of such leaves being fair is an age-old one. Many people believe period leaves to be discriminatory in workspaces. It is generally argued that period leaves are against the constitutional right to equality, Article 15 (1). However, Article 15(3) of the Constitution gives the state the power to make special provisions for women and children.
PSYCHOLOGICAL POINT OF VIEW
Every woman has a different way of reacting to her menstrual cycle. Psychologist Seema Hingorrany says, "It is time that we as a society need to be empathetic towards the needs of women and their unique health issues. Women go through a lot of depression, mood swings and some have hot flushes too. I have patients coming to me saying that they don't feel like going out of the bed when they are having a period. It is better that this leave is granted because their mental and physical conditions on those days affect their productivity and they are not constructive at work."
PHYSIOLOGY POINT OF VIEW
Menstrual leave may benefit the health of individuals who menstruate, including those who experience mild, moderate, or severe discomfort from menstruation, and those who experience menstrual cycle-related illnesses such as dysmenorrhea, endometriosis, ovarian cysts, and mood disorders. For some women, menstrual symptoms may interrupt their daily lives, making it more difficult to participate in normal activities. For example, in one cross-sectional study with 762 participants, 71.5% believed that dysmenorrhea was a normal part of women's life, and on average, reported that their menstrual symptoms moderately affected their daily lives
Potential Benefits of Menstrual Leave
1) Greater productivity
Policies that make employees feel supported and understood, and policies that equip people to do their best work, even under difficult circumstances, are policies that will increase loyalty and better improve employee retention in the long run.
2) Increased Diversity
Another positive implication for menstrual leave may aid individuals who identify as gender queer/non-binary or as trans. If offered this type of leave, gender queer/non-binary individuals and trans may feel an increased amount of safety because menstruation may be a time in which these individuals face increased amounts of transphobia and other types of gender discrimination.
Potential Drawbacks of Menstrual Leave
1) Perpetuating Sexist Beliefs and Attitudes
Both hostile and benevolent sexism have been found to result in evaluating a menstruating woman more negatively than a non-menstruating woman. According to a study, it was found that participants rated a woman more negatively (for example, less competent, less likeable, and more irrational) when they believed that she was menstruating.
2) Contributing to Menstrual Stigma
Menstrual leave brings menstruation to light in the workplace. As such, it violates the cultural mandate to keep menstruation concealed. Thus, those who opt to use menstrual leave may feel at risk to violate cultural norms about menstrual nondisclosure. This unmasking of menstruation in public spaces might contribute to rather than dismantle menstrual stigma.
2) Gender Gap in the Workplace
Menstrual leave may have the potential to perpetuate the assumptions that women are unfit for the workplace and thus, justify gender discrimination.
3) The Medicalization of Menstruation
The medicalization of menstruation, which portrays menstruation as a disease, contributes to convincing women that their bodies are in need of 'fixing'
While the debate around period leave has a long way to go, here is a list of all the countries where women are provided paid menstrual leave.
Indonesia
Two days per month.
South Korea
Women must be paid out for unused menstruation leave.
Taiwan
Three days per month that are not counted as sick leave.
Zambia
One day off per month.
Japan
According to a New York Times report, Japan has offered menstrual leave policies since 1947, when a law was passed allowing any woman with painful periods, or whose job might exacerbate period pain, to take time off.
China
According to reports on China.org women will be able to take one or two days off on production of a certificate from a legal medical institute or hospital.